Floor coatings Sydney, Northern Beaches
Best floor coatings in Sydney, Northern Beaches. We guarantee and warranty our work.
We prefer to use  Water Based – non-toxic finishes  Let us talk to you about our range of products and explain the difference between water and solvent based finishes.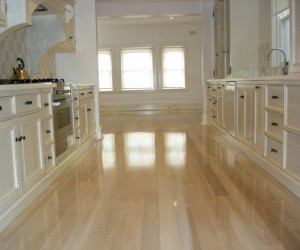 What we recommend ? Water Based finishes – non toxic!
Are classified as non-toxic, with a solvent content of less than 10%. They provide excellent wear resistance without toxic fumes. Water based finishes are also faster drying and non-yellowing, so there is absolutely no reason to use a toxic solvent-based finish.
Polyurethanes
The most common and hardest wearing timber floor coating finishes are made of a plastic film called polyurethane – of which there are 3 main types : Waterbased polyurethane ( we recommend ) ,  solvent based   and oil modified
Waterbased polyurethane
Non toxic / very low VOC / Isocyanate free
Meets green Building Council of Australia standards
Non yellowing
Very good edge bonding resistance.
Lighter / more natural appearance
Solvent based polyurethane
Strong solvent smell on application and they are also of highest toxicity (isocyanate content)
Yellowing (aromatic)
Poor edge bonding resistance.
Thick plastic appearance
Oil Modified Urethanes
Medium smell / Isocyanate free
Good edge bonding resistance
Intermediate durability
Darkens on ageing / traditional oil appearance
Penetrating Oils and Waxes
Blend of natural oils and waxes
Non toxic / very low VOC
Meets green Building Council of Australia standards
Darken significantly on ageing
Specialised Coatings
Bona Traffic HD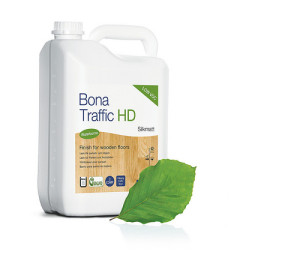 Bona Traffic HD is a waterborne 2 component top coat designed for use in public areas subject to very high levels of traffic.  Traffic HD offers fantastic scratch, scuff and chemical resistance combined with a significantly higher wear resistance.
Add to this a 40% lowering of the solvent content and early development of all of the performance factors which means that after 24 hours Traffic HD is already able to be put back into full use.
Bona Naturale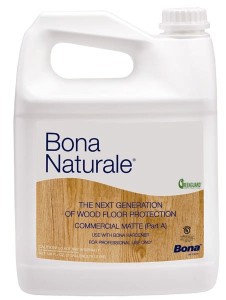 The next generation of timber floor protection features the look and feel of pure wood.
This is a system which allows you to feel the texture of the timber whilst barely changing the look of the surface. Engineered without a traditional matting system Bona Naturale has a sheen level of only 6%.
Walking on to a Naturale floor you can't see the protective coating only what appears to be a raw unfinished timber floor and yet Naturale has a resistance to wear designed for commercial environments. Not only can you see the natural appearance of the wood but the surface feels like wood under your feet.
Naturale is a unique Bona development made predominantly from renewable resources, no mineral oil or polymer, and contains oils, high quality PU and haptic creators.
The Bona Naturale system is comprised of Bona Naturale Base and Naturale 2-Component. Due to its extremely matt nature Bona Naturale can be easily spot repaired as can be seen in the presentation below.
Synteko NATURAL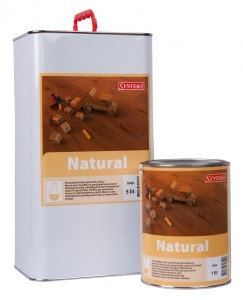 Synteko Natural Oil is a solvent free, faintly smelling high solid hard oil. This matte natural oil finish with its high solid content has superior wear and tear properties covering approximately three times more area than other wood floor oils.
This product is oxygen curing and provides a beautiful natural smooth surface. Synteko Natural is recommended for commercial areas like offices, shops, museums, shopping centres and other areas where high wear resistance is required.
A significant advantage of Synteko Natural Oil over all other floor oils is its zero VOC emissions coupled with 100% solid content making it exceptional durable and extremely environmentally friendly.
Synteko Classic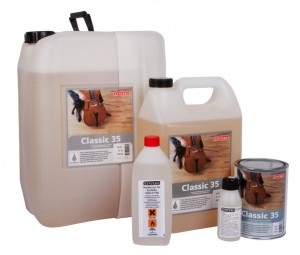 Synteko Classic is a dual-component, quick-drying, acid-curing hardwood floor finish for interior use based on modified amino and alkyd resins.
Thanks to the maximum protection it offers, it is ideal for floors subject to high volumes of traffic.
Floors finished with Classic are waterproof and exhibit high resistance to scratching, wear and damage from cleaning products
Synteko Classic, one has undergone a renewal which now sees fewer organic compounds being released into the air as the finish is applied. More environmentally friendly than ever before.
Loba solid oil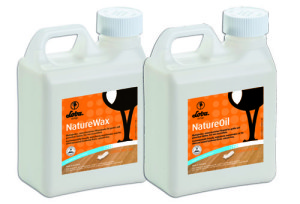 Solvent-free 2-component floor oil based on vegetable oils for the treatment of wooden floors. By adding hardener, a quick curing is achieved.
HS 2K Impact Oil is suitable for parquet and hardwood floors with extremely heavy wear. Suitable for toys according to DIN EN 71-3.
Features
100% solids – solvent free
Natural satin appearance
Excellent water resistance, also suitable for bathrooms, kitchens and other rooms exposed to high humidity
Increased anti-slip class R10 according to BGR 181 and DIN 51130.
Treatex hardwax oil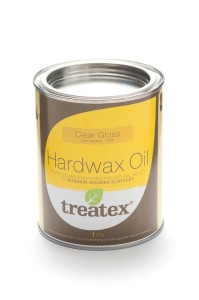 Oil and Wax combinations on a base of natural, sustainable raw materials including Linseed oil, sunflower oil, Jojoba oil, Beeswax, carnauba wax and candalilla wax.
Durable hardwax finish is easily maintained, is water repellent and dirt resistant, will not discolour, crack, flake or peel, safe for use on children's' toys contains no pollutants and minimal solvents Also available in a range of colours and four sheen levels, Matt, luster, satin, and Gloss
It allows timber to breathe and move seasonally, enhances natural grain and timber colour, is non yellowing and will not edgebond.
Tung oil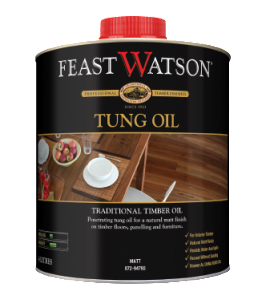 Many customers these days are asking for their floors to be finished with a 'Tung Oil' finish. The reason is often because they want to avoid the thick 'plastic' look of a solvent based polyurethane finish and prefer the more natural appearance of Oil. What they often do not realise is that on their own, this type of finish does not wear very well. No matter what brand, a Tung Oil finish should be maintained with a sacrificial polish to provide good wear resistance in high traffic areas. This immediately creates an ongoing maintenance program for the customer. The use of a polish also makes re-coating in the future very difficult
Oil Modified Urethanes
These spirit based coatings combine an oil with a smaller amount of a urethane and have a more traditional oiled floor appearance.
Isocyanate free, have good edge bonding resistance, intermediate durability. And darken considerably with time
Unlike tung oil, they do not need to be constantly protected with a sacrificial wax or polish which builds up over time and needs to be stripped before recoating.
Urethane coatings – modified oil
A resin modified Oil, providing improved durability over alternative oil finishes, suitable for interior coating of all timber species.  Ideal for coating New Timber Floors suspected of being prone to shrinkage.  Especially suitable for clients concerned of fumes from Polyurethane as only low VOC white spirits is used as the solvent.
Links :