Timber floor staining and woodwash
We are timber floor staining and woodwash SPECIALISTS

Staining and woodwash – liming
are a great way to change the appearance of a timber floor – usually on paler timbers such as Cypress pine, Kauri pine, Baltic pine, blackbutt . Tassie oak/Vic ash , American oak, and Tallowood.
Staining can transform these yellow, orange coloured timbers into a contemporary looking chocolate or charcoal neutral colour pallet.
Staining can also hide stains  &  blemishes , picture framing , and patching of different types of timber.
is a milky white translucent coating that subtly softens and ages the appearance of bare timber, highlighting the grain and replicating the look of limed or bleached timber. Perfect for adding a sense of coastal style and casual elegance, or for a relaxed provincial feel…. read more about Porter's Original Paints Wood Wash
There are 2 application methods used for both of the above:
Directly applied to the bare timber ( wipe on / wipe off method )
This produces a far superior result, highlighting the grain of the timber with a much more natural appearance. This is then over coated with 2pac waterbased polyurethane, sealing and protecting.
This is the only method we use and has been perfected after years of experience.
Mixing with the finish / topcoat
This produces a fake / cloudy unnatural look – which then fades and wears unevenly as the top coat wears down. This method is usually used by contractors who don't have the skills required for direct application and / or for cutting costs.
Staining and Woodwash Galleries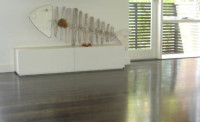 View the gallery >
Floor sanding Avalon
Floor sanding and polishing - Stained cypress pine - Avalon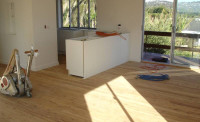 View the gallery >
Floor sanding northern beaches – Warriewood
Stained cypress pine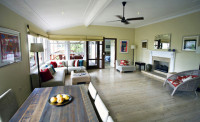 View the gallery >
Wooden floors northern beaches – Collaroy
Wooden floors coating and polishing - beautiful Porters woodwash